The Nasty Habit
The Nasty Habit, captained by Greg Hopkins, is a 51-foot Cabo boat headquartered in Kona, Hawaii that specializes in charter deep sea fishing excursions. Unlike many of its charter fishing competitors, the Nasty Habit is updated, modernized, and luxurious, offering you the experience you deserve. As a private charter service, we will never ask you to share your experience with others.
Each of our charter fishing groups gets our undivided attention and has a say in where and when they fish.
AVAILABLE for tournament, corporate, and personal fishing charters
Tournament-quality rods, reels, tackle, and bait along with GPS, sonar, and radar
Furano GPS, sonar, and radar
Air conditioned cabin with leather couch and comfortable salon
52-inch satellite TV with 220 channels
Bathroom, bedrooms, hot showers, and washer/dryer available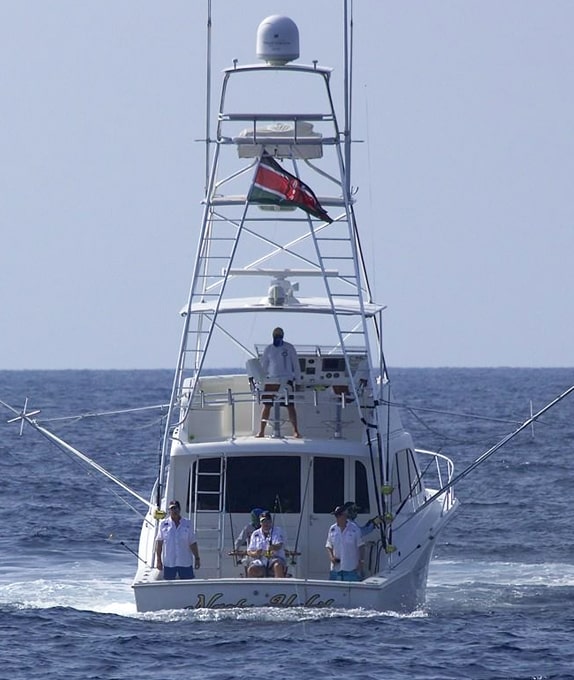 Greg Hopkins
Captain, Nasty Habit
Meet the Captain
Greg Hopkins Captain, Nasty Habit Greg Hopkins has more than two decades of experience in tournament, commercial, and charter fishing. Greg's resume includes fishing all over the world, including: the southwestern Atlantic, from North Carolina to Key West; Bermuda; the Bahamas; the Caribbean; and Mexico's Atlantic and Pacific waters. Greg has also fished some of the world's finest and most remote eastern Atlantic fishing destinations: Ascension Island and St. Helena.
Fun to fish with and easy going, Captain Greg has been living and fishing off of Kona since 2015. While Greg's extensive experience includes all aspects of big-game fishing, he personally loves bait and switch fishing as well as catching big game on light tackle ranging from 20-pound to 50-pound test. He's also experienced with new anglers, especially kids, and loves to help them make their first experience deep sea fishing a positive one. He'll share his experience with you and work to make your adventure a memorable one